DIGITIZE01 Digital Publishing Platforms
What are Digital Publishing Platforms?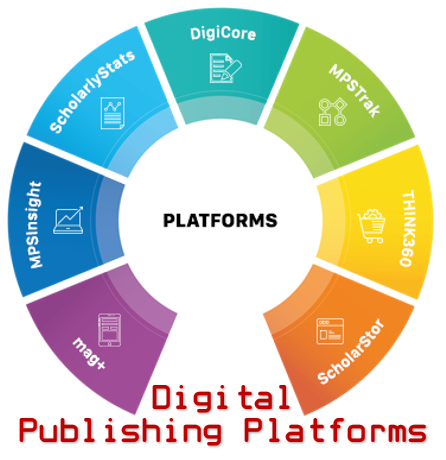 Digital vs traditional publishing has been a topic of discussion for the last few years. And it seems like there are more and more people coming out in support of digital publishing. If you analyze both the publishing methods, you would find that there are more advantages of having a digital publishing platform than working with a traditional publishing house.
What made digital publishing click with the publishers? It's basically the ease of creation and distribution along with the additional benefits that it offers; something which a traditional publishing model cannot provide. Some traditional publishers are gradually shifting towards digital publishing as they have come to realize that they cannot keep their businesses alive by continuing only with traditional publishing.
We are currently living in a digital age where we constantly look for new content and instant gratification. People are habituated to operating mobile devices daily for as many as five hours. When they have access to multimedia-rich interactive content on their phones and tablets, why should they turn towards a printed book which offers nothing but static pages with text? So, in every way, digital publishing is better for the readers as well as for the publishers. Still unconvinced?

Advantages of Using Digital Publishing Platform
Here are some points which highlight the advantages of having a digital publishing platform:
1. Cost-Effective Publishing:
Isn't this one of the most important factors that you consider while buying any product or service? So, let's start with this one first. If you compare the cost of publishing a physical book and an eBook, you would find a vast difference between the two. This is because digital publishing eliminates a lot of processes that are involved in traditional publishing.
For example, for digital publishing, you need a computer, software to create and publish your eBook and a good internet connection. Whereas in traditional publishing, there's traveling cost, printing charges, distribution costs, cover page illustration charges etc., that are added to the cost of the book.
So, when a user purchases a printed book, they are paying for the cost of transportation, printing, publishing, distribution, cover creation, and other sundry charges if any. And when users purchase an eBook, they are paying for the author's hard work and some profit that s/he obviously aims to make. Reasonable enough. That's why you would find that eBooks are way too cheaper than printed books.
2. Eases the Process of Book Creation:
Typing out manuscripts and giving it out for printing is a waste of paper and money. Doing away with this old process and creating eBook on a publishing software enables you to create content directly on a digital publishing platform.
You can even design/download the cover page illustration. A digital publishing platform allows you to add HTML interactivities, drag and drop elements etc., with ease. It allows you to design the layout and select themes for your eBook, giving you creative freedom.
3. Provides an Interactive Reading Experience to Users:
A digital publishing platform offers an interactive reading experience. Users can not only turn pages in an eBook but can also zoom and change the font size as per their comfort. You can add multiple interactive elements to your publication to make it more appealing to your audience. You can include images and videos in your eBook. Users can access the dictionary to look up words.
They can search for a word or statement using the search feature. You can also add the read aloud feature, where users can listen to the content. All these things cannot be included in a printed book. And this is what makes an eBook more interactive and engaging for the users. They get to constantly interact with the content, giving them an enhanced reading experience.
4. Editing Is Possible Even After Publishing:
Imagine you've published your book the traditional way, and while going through it later you find a typo somewhere in there. What do you do? Republishing a print book is a costly affair. In case of an eBook, you can quickly make edits and rectify the error.
eBooks are mostly created on cloud-based digital publishing platforms. So, if one ever wants to update any information or make some other edits, they can do so easily. We cannot say the same for print publishing though. So, digital publishing helps you keep your books error-free and updated at all times.
5. Analyse Distribution and User Behavior:
Digital publishing lets you track your distribution patterns. You can find out how many users have downloaded your eBook. This is an effective way to track the numbers, as it lets you view the number of people who've accessed your eBook. You also get to view the reviews of your eBook's performance.
In a traditional publishing model, the author/publisher has to wait for weeks or months to get useful information about the sales performance of their book. With the help of analytics, they can now immediately track and receive accurate data about their eBook distribution and consumption. This helps them plan their eBook sales strategies and revise them if needed. With up-to-date data of eBook distribution and user consumption, publishers can also track their earnings.
6. Wider Reach:
The aim of digital publishing is to reach a large number of audiences. With majority of people owning a mobile device with internet, they have instant access to a variety of content online. Online content knows no boundaries and does not charge for shipping and packaging. Anyone can download your eBook from anywhere in the world. Thus, a digital publishing platform lets you securely distribute your publication to the whole world.
People don't really keep a track of all the printed books that are being published, unless they are written by some really famous author. So, in order to reach out to your digital audience who search for books in online libraries, you need to opt for digital publishing. This way, even if the users change their location, they can still be notified of your latest eBook through instant notifications and alerts. Authors these days publish their books in print as well as in the digital format to cater to every type of audience- digital readers and print lovers.
7. Publishers Can Earn Revenue from Advertising:
As we covered earlier, digital publishing is easy on the pocket and eliminates excess costs, helping publishers earn more revenue. Another way by which you can increase your revenue is by advertising. A lot of digital publishers are earning money by selling ad spaces on their sites. Services like ad space will place advertisements that are tailored to each website visitor.
You can analyze the data you collect and sell ad spaces to companies who are willing to place their ads on your website. They earn on the basis of the impressions that the ad has received. If your site has a lot of images, the ad service will run relevant ad which suits your audience. This is an easy way for digital publishers to increase their revenue.
8. Go Green with Digital Publishing:
Digital publishing is environment-friendly. Apparently, 3.5 billion to 7 billion trees are cut down per year. And it is estimated that it takes 24 trees to make 1 ton of standard office paper. Imagine the number of trees we can save if we all decide to go digital and avoid the use of paper.
Digital publishing, as we know, does not require any particular physical material other than a computer device. Just like emails have replaced postcards, if eBooks completely replace paper books, we can avoid felling of trees and contribute to the betterment of our planet.
9. Requires Less Storage Space:
How many books can a person carry at a time? One or two perhaps? Carrying a digital device enables people to carry thousands of books along with them wherever they go, without taking up half the space required for a physical book.
Storing books becomes manageable and easy with eBooks. Users can just download whichever eBook they want to read and save them on their device. If they do not want to read them again, they can remove those books from their downloaded list. So, digital publication helps users to save physical space at home and digital space in their reading devices.
So, these are some of the major advantages which digital publishing offers. It's cost effective and can help you make more revenue than a print book. Creating content becomes way more convenient with a digital publishing platform.
Because you can then include interactive features and multimedia elements in your eBook, making it engaging for your readers. With the advantages that a digital publishing model offers, you can aim to create compelling eBooks for your audience. By opting for a digital publishing platform, you can offer your readers so much more than a regular book.

Select the language of your preference