DIGITIZE01 Digital Media Productions
What is Digital Media Productions?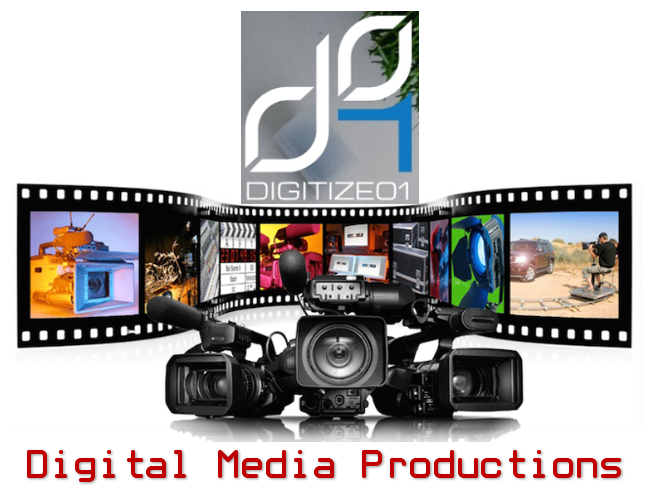 Digital media encompasses any kind of media that is created in a machine-readable-only format, and it includes everything from MP3 files and ebooks to videos and website design. No, you don't need to go to school to learn these skills, but digital media production degrees are now hotly sought after and are offered in universities and technical institutions around the world.
From mom-and-pop shops to multinational companies, digital media is now at the fore of how a business communicates with the public. Social media and websites have become almost mandatory for companies looking to have strong consumer loyalty and a solid brand name. Having dated or obsolete online properties can make companies seem as though they're behind the times or floundering financially.
Critical Multimedia for Businesses
Social Media: Beyond status updates and messaging, social media allows savvy companies an ongoing focus group experience with their fans and potential customers. Content can be user generated or brand created, but it must be compelling, engaging and shareable. Social media is not just about broadcasting your message but rather about creating open dialogue and relationships with your consumers.
Video: While many sites have pivoted to video only, the wisest companies have a balance of content styles. Video can be used on websites, in tweets, on Facebook and beyond. Even Google reviews allow video now, so the online format is a need-to-know. Video editing is a valuable skill for anyone managing online properties.
Website and Mobile Development: A functional, fast-loading, easy-to-use website is still critical. Many small businesses have taken the easy way out and deleted their websites in favor of using Facebook company pages, but this is a dangerous venture because it puts control of house marketing materials in the hands of a third party. WordPress and Squarespace offer simple web platforms, but a wide range of designer solutions exist for a variety of budgets. Mobile-ready pages and apps are now critical, as more than half of the world's web activity happens on smartphones.

Why Digital Production matters?
The digital revolution has moved marketers closer than ever to realizing their ultimate fantasy – the ability to target specific messages to specific people at specific moments and places. And with tens of millions, even hundreds of millions, of global consumers reachable and ready to be engaged through a wide range of platforms and devices, the power of effective digital marketing seems limitless.
Unfortunately, in many cases, much of the potential value is lost to the high cost and complexity of managing the "production" or execution of digital marketing campaigns. In some cases, these allegedly lower-cost channels end up being more expensive than projected. Or brands suffer from inconsistent presentation or dodgy quality as campaigns are extended to new markets or channels. Or campaigns aren't launched in a timely fashion or optimized quickly enough to seize opportunities presented by seasonal cycles or market rhythms.
The fact is, in a time of shrinking budgets, marketers must not just move dollars to digital, but be rigorous about optimizing their digital spend. That is, they must hone in on the activities and channels that best build brand equity, drive growth and deliver tangible ROI – and then exploit those activities and channels again and again.
So how do you do it? One way is to wring greater efficiencies out of the executional processes of digital marketing, what we call "digital production." As top online marketers have learned, digital production can be a difference maker in getting to breakthrough ROI. For instance, a global pharmaceutical firm saved $5.5 million dollars last year by decoupling production from creative and outsourcing the development and production of websites, microsites, email newsletters, rich media banners and other digital initiatives to consolidated global teams with deep expertise and experience in these areas.
We define "digital production" as the process by which creative ideas and assets (images, text and interactive apps) are translated into an array of digital media – web sites, banner ads, rich media applications, HTML emails, mobile and social media applications – so that the right messages are delivered via the right channel at the right time to the right users.
So how does it work in practice? Creative teams continue to set the strategy, the overall direction and generate the "big ideas" for brands and campaigns. Generally, these teams define the assets to be built by developing comps or storyboards, copy decks, wireframes, or functional requirements – depending on the type of assets needed. Digital Production agencies take this creative direction and work cooperatively with creative agencies and brand managers to bring their creative concepts to life. For example, Web designers and developers may take a storyboard design and code it so it runs seamlessly in multiple ad formats and sizes, and across browsers, or as a Flash movie. They may create or update templates to reflect new corporate identities, logos or color schemes. They may execute an entire Web redesign based on the creative agencies new style guidelines or updated product content. Deliver's approach calls for all production designers and developers to understand the look, feel and voice of a brand so that they are partners in ensuring the brand is portrayed consistently.
Now, you may wonder why ad agencies or the initial creative teams don't handle the production, as typically happened in the past. For one reason, there is much greater technical complexity to be managed in digital channels than in traditional broadcast or print. Just think of all the many formats and platforms for presenting audio and video content, managing email newsletters and serving up online ads. It makes sense for the strategists to stay focused on the big ideas, while skilled production teams stay on top of all the leading practice and fast-changing toolsets.
Then there's the flexibility. A strong digital production partner gives marketers the ability to call on the exact skills and expertise when they need them. That "on demand" access means production teams can be structured in direct alignment with needs (whether it's a global, enterprise-scale program or a targeted, one-off project) and "flex" up when necessary.
Further, experienced digital production pros should have automated and scalable production models and proven workflow and communication processes – which most creative shops won't have. These are critical to realizing the cost savings and quality improvements. Lastly, leveraging consolidated teams and full-service production hubs around the globe can dramatically reduce labor costs and increase productivity (in addition to providing the ability to work across time zones).
Given the emergence of digital channels as a force for 21st-century marketing and the proportions of budgets being allocated to digital, we believe excellence in digital production is an absolutely critical element for success today. And with ever tightening budgets, our effective digital production can deliver immediate savings and ROI gains – from 20 to 50% in our experience.

Select the language of your preference