Digital Marketing
What Is Digital Marketing?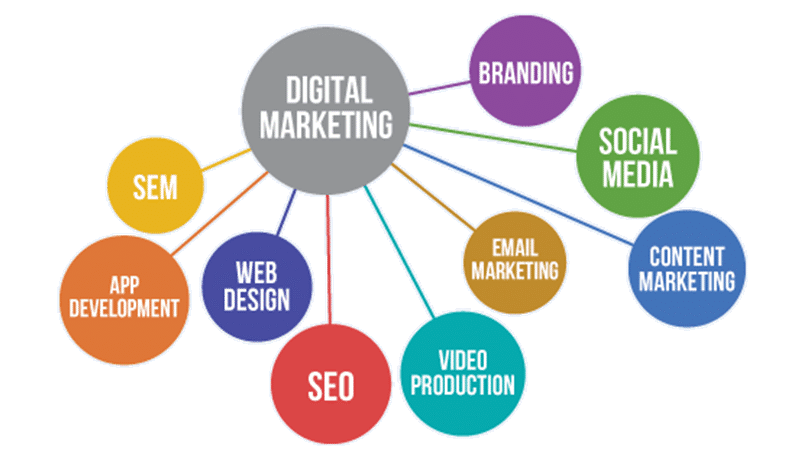 Digital marketing encompasses all marketing efforts that use an electronic device or the internet. Businesses leverage digital channels such as search engines, social media, email, and other websites to connect with current and prospective customers.
Digital marketing is the act of promoting and selling products and services by leveraging online marketing tactics such as social media marketing, search marketing, and email marketing.
When you get down to it, digital marketing is simply marketing. It's how today's businesses are getting their message in front of their best prospects and customers.
Rule #1 in marketing is to make the right offer at the right time and in the right place. Today, your customers are online: hanging out in social media, staying updated on news sites and blogs, and searching online when they have a need.
Digital marketing puts you in those same channels, so your best prospects can see you, learn more about you, and even ask questions to learn more about you and your products or services.

Here are the main types of digital marketing you should consider for your business.
1. Content Marketing
Content marketing is a type of digital marketing that focuses on creating and distributing content for a target audience. The content aims at being valuable, relevant, and (ideally) consistent. Its ultimate goal is to drive a profitable customer action.
The crucial part here is "valuable" and "relevant". This is what tells content marketing apart from traditional spammy advertising. The target audience should want to seek the content out and consume it.
In the broader sense, content marketing is part of every other digital marketing activity, be it social media marketing, SEO, or email marketing. Quality content should be the core of every other marketing activity you pursue.
Some examples of content marketing include: blog posts, videos, podcasts, infographics, white papers, case studies, ebooks.

2. Search Engine Optimization (SEO)
SEO, or Search Engine Optimization, is the process of getting quality traffic from free, or organic, search results on the search engines (like Google and Bing).
It's important that the traffic you drive to your website is relevant to your industry. If you manage to attract a high volume of visitors searching for Macintosh computers while what you actually do is selling raincoats, the traffic will do you no good.
SEO is one of the most important types of digital marketing. By optimizing your content for search engines, you can increase a steady stream of relevant traffic that will only grow over time. Without search engine optimization, people simply won't be able to find you on the Internet.
Some optimization techniques include: researching relevant keywords and including them into your website copy, optimizing your website titles, description and loading speed, building relevant backlinks.

3. Search Engine Marketing (SEM)
Initially, the term "search engine marketing" was used as an umbrella term for the process of gaining both paid and free search traffic. Over time, the industry switched to using the term "SEM", or Search Engine Marketing, solely for paid activities.
So, what does this type of digital marketing mean?
Search engine marketing refers to a form of digital marketing that aims at increasing the visibility of a website in search engines by using paid methods. In other words, it's the ads you put out there on Google AdWords and Bing Ads.
You can recognize paid search results in Google by the little sign "Ad" at the beginning of the URL. Also, Google puts these pages first in the search results.
By combining SEO and SEM, you can drive quality traffic to your website. With the help of search engine marketing, you can put yourself in front of the audience that is actively searching for services and brands like yours.

4. Social Media Marketing (SMM)
Simply put, social media marketing refers to the process of using social media platforms to attract traffic and attention. By using social media, you can increase exposure and build meaningful relationships with your customers.
While everybody can benefit from SMM as a type of digital marketing, B2C and SaaS companies tend to get the most out of it. Social media marketing is all about listening to what your customers have to say, engaging in the conversation, and sharing valuable content.
Together, content marketing, SEO, and social media marketing constitute what is called "inbound marketing". It is a marketing methodology that aims at attracting, engaging, and delighting leads. Some goals of inbound marketing include attracting users' attention, driving relevant traffic to the website, and converting it into happy customers.

5. Pay-Per-Click Advertising (PPC)
Pay-per-click is a model of advertising where marketers pay a fee every time people click on their ad. Basically, it's the process of buying visits to your site, as opposed to getting them organically via SEO or other types of digital marketing.
PPC is one of the types of paid search. It's similar to SEM (search engine marketing) but can also include display advertising (cost-per-click based), and affiliate advertising.

6. Affiliate Marketing
Affiliate marketing is one of the popular ways people make money online these days. If your affiliate program is successful, you might earn quite a decent passive income.
Basically, affiliate marketing is a type of digital marketing where a person partners up with other businesses in order to receive a commission for the traffic s/he generates for this business. Imagine this: you put a link to an external website on your own blog or website. Every time a user proceeds to this external website and makes a purchase, you receive a commission.
This marketing strategy might work especially well for bloggers, since they can write different types of articles on the given topic and naturally include affiliate links.

7. Email Marketing
Email marketing is one of the most popular types of digital marketing. To put it shortly, it's the use of email for promoting one's products or services.
If you go a little deeper, email marketing might also refer to building relationships with your customers. Ideally, emails you send out to your clients should not only speak at them but also encourage meaningful interaction with your brand.
There are many things that contribute to the success of your email marketing strategy, from the content you create to the time you send your emails. One thing is certain, though: email marketing is far from being dead and should definitely be part of your overall digital marketing.

8. Instant Messaging Marketing
Instant messengers are the latest communication trend. There are 1.5 billion people globally using WhatsApp on a monthly basis, followed by Facebook Messenger and WeChat. If you want to be where your audience is, enter instant messaging marketing.
This type of digital marketing exploded over the last couple of years. People are much more likely to trust the information sent via a messenger (as if it comes from a good friend) than email or SMS that are vulnerable to spam.
There are different ways how you can proceed with instant messaging marketing, from using them for customer support to updating your users about new posts on your blog. But just like with any other digital marketing type, before diving right in, I'd recommend that you develop a strategy first.

9. Radio Advertising
While considered "old-fashioned" by some, radio advertising might still be a powerful medium, especially for B2C companies and local businesses. In the US alone, radio advertisements account for 7.8% of total media expenditures.
Radio advertising is also relatively cheap, as you don't need to produce fancy visuals: you solely rely on your customers' imagination.
Just like with any other type of digital marketing, to create successful radio advertising strategy, you have to know your target audience. In addition to that, create a great script, hire a professional voice talent for the job, and get your timing right.

10. Television Advertising
Last but not least, our list of digital marketing types wouldn't be complete without television advertising. With the general population spending over 4.5 hours a day in from of the TV, it's still one of the most popular medium types. It reaches people faster than, say, newspapers or radio. Due to the powerful effect video has on humans, it might also be very effective.
Television advertising is expensive, and coming up with a great and engaging ad might be a daunting task, too. TV ads work great for FMCG products, clothing brands, cars, medicine, and food.

Select the language of your preference